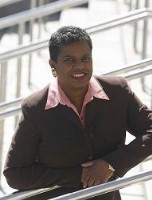 The Law Offices of Murlene J. Randle is a civil rights, employment discrimination, and criminal defense litigation firm. Our firm is located in San Francisco's Financial District, at 235 Montgomery Street, Suite 716 (easily accessible by BART & MUNI). We pride ourselves on zealously advocating for those whose rights have been violated and represent such persons against private and public entities in both Federal and State Court. We may be reached by phone: 415 352-0189, via email: This email address is being protected from spambots. You need JavaScript enabled to view it., or via fax: 415 352-0187.
Prior to starting her own firm in 2007, our principal and founding attorney Murlene J. Randle, had over 25 years of trial experience and worked in the San Francisco District Attorney's office for over 22 years, where she was appointed to lead many high profile departments, among them, Head of the Homicide Unit, Head of the Sexual and Child Abuse Unit, Chief of the Division Prosecuting Crimes Against Women, Children, and the Elderly, Chief of the Criminal Division, and ultimately Chief Assistant District Attorney. Prior to starting her law firm, Murlene was appointed the Director of Mayor Gavin Newsome's Office of Criminal Justice and as Chief negotiator for the City's labor negotiations.
---
Murlene J. Randle is a fearless, highly respected ex-career prosecutor who runs a firm that specializes in Employment Discrimination, Criminal Defense, and Civil Rights Lititigation. As a prosecutor for the first 22 years of her legal career in City and County of San Francisco, she earned a reputation for being both compassionate and tough; and she brings that same toughness and compassion to her private practice. Murlene tried hundreds of felony cases, including murders and rape cases; all but one of these hundreds of cases resulted in "guilty" verdicts. During her years as a prosecutor, Murlene served in the following positions: Head of the Homicide Unit, where she ran that unit and successfully tried many murder cases; Head of the Sexual Assault Unit, where she ran the unit and successfully tried many rape and child abuse cases. Next Murlene served as Chief of the Criminal Divisions, where she oversaw all criminal prosecutions in the City and County of San Francisco. Ultimately, she was assigned the position of Chief Assistant District Attorney, second only to the District Attorney himself, Terence Hallinan.
Murlene started her private law firm in 2007, after retiring from the City and County of San Francisco. She is actively involved in litigating cases in both the Federal and State Court, and has litigated civil cases that settled for millions of dollars. Among the many cases that the firm is representing plaintiffs are the following defendants: The United States Department of Agriculture, The City and County of San Francisco, Charles Schwab and Co, Inc., Genentech, Inc.
Murlene states: The many years that I tired murder and homicide cases taught me how to build cases that are successful at trial. My clients reap the benefit of this experience through successful settlements and jury verdicts. The complexities of civil rights litigation, employment discrimination, and many types of criminal cases require an experienced trial lawyer. I bring that experience to my clients' cases.